IS YOUR ORGANIZATION LOOKING FOR DONATIONS OR SPONSORSHIP?
Murray Dunn is an active supporter of Community Events, we are proud of the support we can give back to our Community.
Click here to Request Donation or Sponsorship
MURRAY DUNN GM COMMUNITY INVOLVEMENT
1ST ANNUAL AGRICULTURE SAFETY DAY
On April 26th 2018 Bunge Canada held it's first annual Agriculture Safety Day. Murray Dunn was on display helping teach a group of about 400 kids from grades 4,5,and 6 about the dangers of vehicle blind spots. The entire event was aimed to help kids understand the dangers associated with our Agriculture communities. Various Businesses and organizations from across Northeast Saskatchewan to as far as Saskatoon were on hand to demonstrate potential dangerous situations and proper safety techniques associated with everything from Hazardous Chemicals to Heavy Equipment.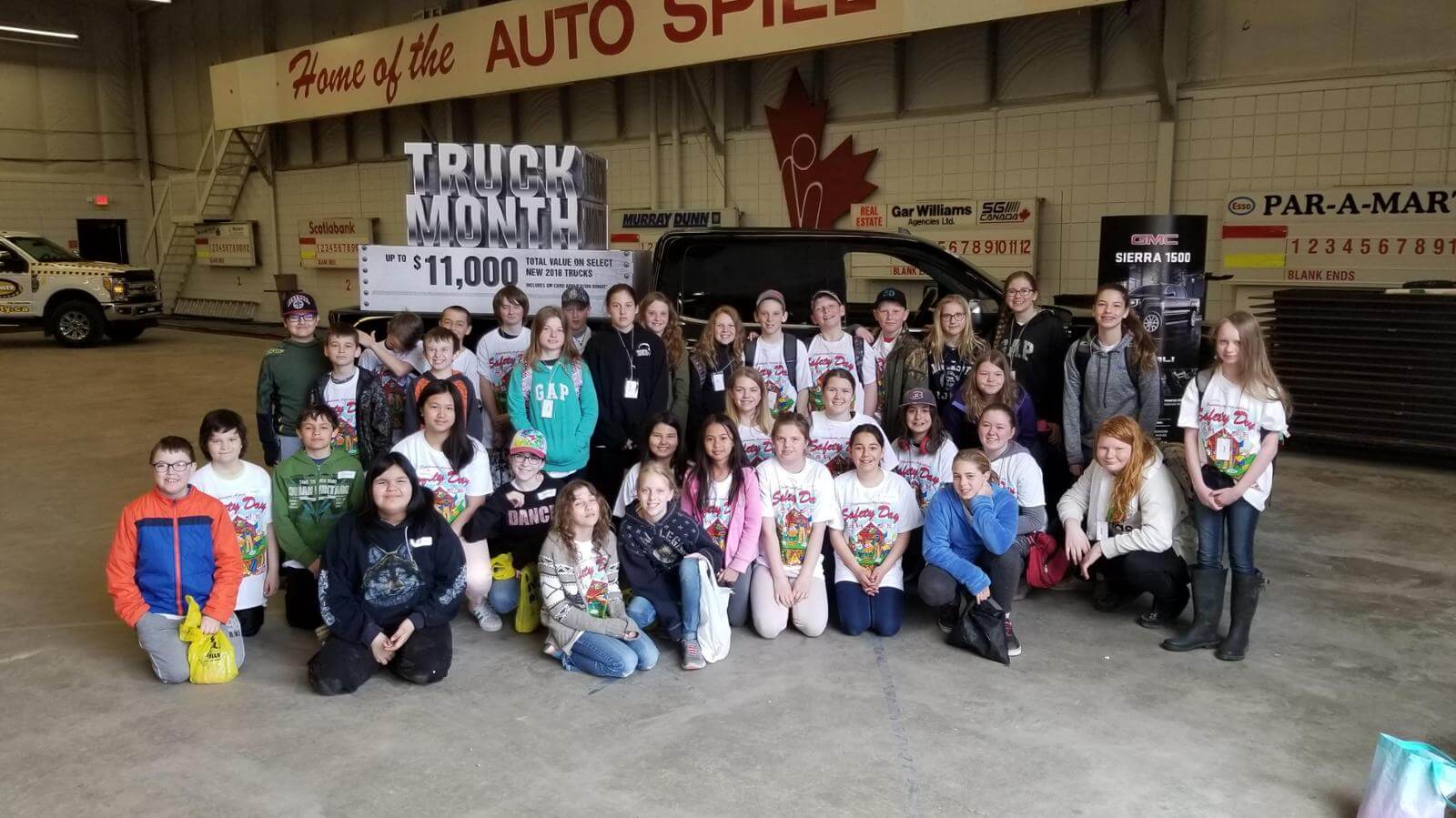 MURRAY DUNN AWARDED 2017 NIPAWIN ABEX SERVICE AWARD
On Feb 9th, 2018, Murray DUnn GM was awarded the 2017 Nipawin Chamber of Commerce Service Award. The Service Industry Recognition goes to a business that demonstrates exceptional performance in providing quality services in the form of wholesale and retail trade. The service award celebrates individuals for the excellence they bring to their business or organization every single day. Growth, stability, quality and customer service initiatives are all considered.
Nipawin Chamber of Commerce:
Murray Dunn Motors had its official start on Sept 5th 2007, buying out the former Lakewood Motors, which before that was Archer Motors.
Murray Dunn is a partnership with the Murray Auto Group, Craig Dunn, as well as Lyall Cook who is the managing partner at the dealership. The Murray Group is partnered or running 31 dealerships across Canada and is recognized as one of Canada Top 50 Managed companies.
The store was refaced and upgraded to GM requirements in 2012 to its present appearance, but, the one thing that has kept the dealership running as well as it does, is of course the people who work in the building every day. Above and beyond the equipment and training the staff are provided to do the job right – they all strive to provide a good customer experience on each and every occasion.
General Manager, Murray Dunn GM, Lyall Cook:
"It's no secret that the automobile business is changing dramatically in this era, but good people will always allow for success. 10 full years behind us – we look forward to continuing to serve the Nipawin and north east of Saskatchewan for years ahead."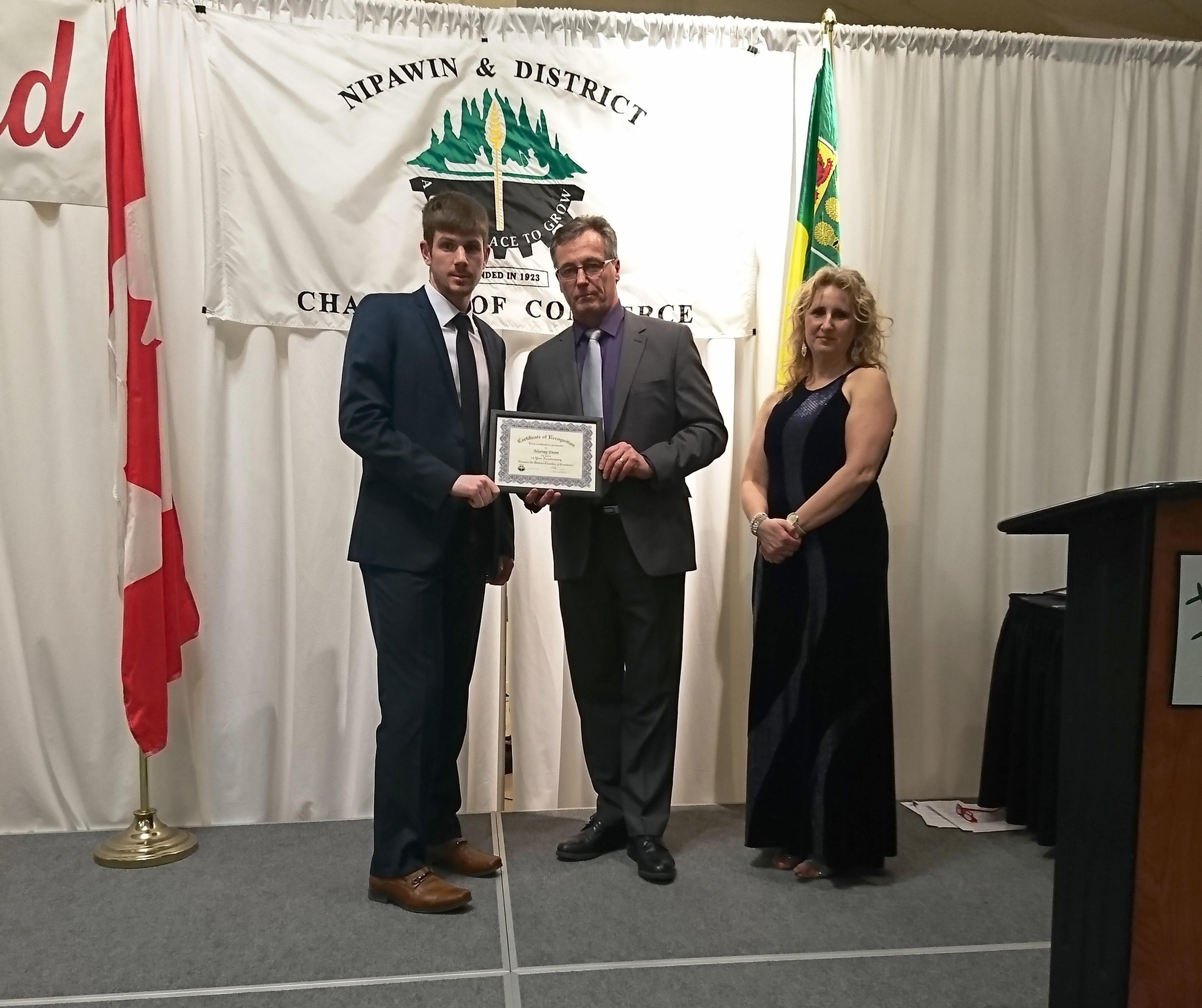 JANUARY 2018 MURRAY DUNN GM PLAYER OF THE MONTH
Murray Dunn GM has been a proud sponsor of the Nipawin Hawks for many years and are proud to be the title sponsor for the Player of the Month award that will be awarded to a player that has exemplified a high level of play throughout the month of January. The selected player will be awarded a $200 scholarship fund sponsored by Murray Dunn GM to be used towards pursuing a post secondary education after his years of playing as a Nipawin Hawk!
The January Murray Dunn GM Player of the Month was awarded to #20 Chad McCartney.
Throughout the month of January Chad put forward some impressive contributions to help the Hawks secure 1st place in the SJHL as awell as 3rd Place in the CJHL rankings. Chad's 14 point in 9 games throughout January as well as receiving an SJHL player of the week award are both evidence of a contributing force for the Hawks as they push towards the playoff season! Congratulations Chad McCartney.
Pictured: (Left to Right) Nipawin Hawks Education Co-ordinator, Jim Kulpa, Marketing Manager of Murray Dunn GM, Bryce Cook, #20 Chad McCartney.
JAM THE GMC DEC.4TH – DEC.16TH
JAM the GMC was an event inspired with the thought of supporting the Nipawin Salvation Army's food bank prior to their busiest time of the year. Every year the Salvation Army put together Christmas food baskets for families in need and with that there is a lot of items needed to make these family Christmas' come true. JAM the GMC was a challenge set out to the general public in that every test drive would pledge Murray Dunn GM to donate $10 of non-perishable foods to the Salvation Army food bank. This ultimately allowed people of the public to experience a new car for a few minutes at absolutely no cost and creating a motion that would ultimately benefit a family in need. Murray Dunn gratiously teamed up with Save-U IGA for this campaign where in the end over $400 in non-perishable foods were raised on behalf of test drives taken. Thanks to everyone who helped us JAM the GMC!
NIPAWIN HAWKS TEDDY BEAR TOSS DEC. 8TH, 2017
On Dec.8th, 2017 the Nipawin Hawks hosted their annual Teddy Bear Toss. Organized by the both the Nipawin Lions Club and the Nipawin Kinettes, Murray Dunn GM was proud to lend a helping hand in collecting the donation items off the ice surface after the Hawks scored their first goal. All items that were collected were donated to the Salvation Army in Nipawin, and was a great way to kick off our JAM the GMC event aimed at raising funds for non-perishable foods for the Salvation Army Food Bank.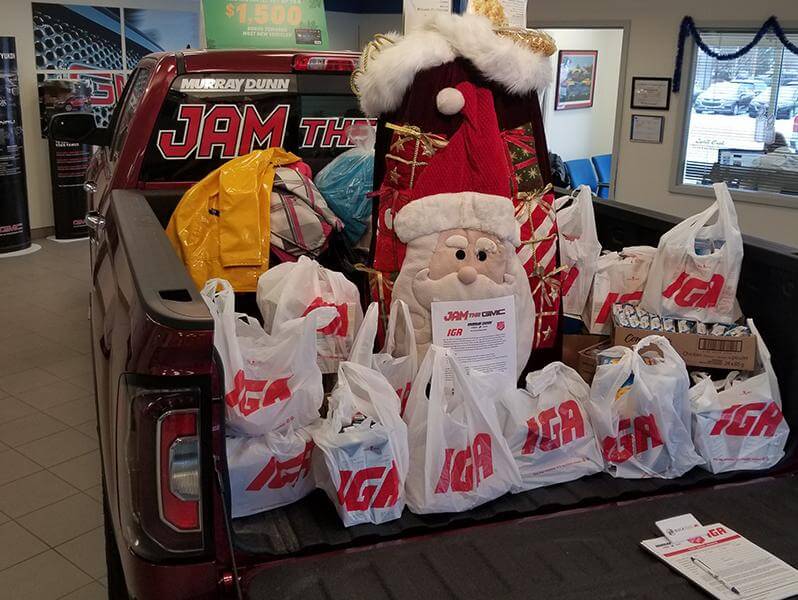 MURRAY DUNN GM SUPPORTING NUTRITION FOR KIDS
Murray Dunn GM is proud to be a community partner within Northeast Saskatchewan. Throughout October 2017 we have teamed up with Nipawin's Nutrition For Kids (NNFK)with a monetary donation to support the practice of nutritious diet for youth in our community. Pictured on the right representing Murray Dunn GM, Maxine Cook presenting a cheque to NNFK Nutrition Coordinator, Keltie McKinnon.
MURRAY DUNN GM SPONSOR DUSTIN RANDALL RACING 2017
Murray Dunn GM is proud to be one of the title sponsors with Randall Racing for 2017! Make sure to catch a race nearby at the Tisdale Motor Speedway this summer and cheer on the blue #8 car of Dustin Randall! Read our interview with him here.
BUICK TEST DRIVE FOR YOUR STUDENTS JUNE 10TH 2017
Buick Drive for Your Students at LP Miller. Murray Dunn GM, which has been serving the community for several years, is proud to announce the Buick Drive for Your Students program will be coming to LP Miller on June 10th 2017, starting at 9 a.m. We will be the only dealer in the Nipawin to offer this amazing opportunity for you to make a difference in your community by test-driving a Buick or GMC. The Buick Drive for Your Students program allows members of the community, be it parents of children in the LP Miller district teachers, faculty and staff or just anyone looking for a new Buick or GMC who wants an opportunity to give back to the Nipawin community the chance to test drive brand new 2017 Buick and GMC Vehicles right at the LP Miller.
BUICK TEST DRIVE FOR YOUR STUDENTS JUNE 10TH 2017
Murray Dunn GM along with LP Miller Comprehensive High School teamed up with Buick Canada to host Nipawin's first "Buick Drive for your Students". This event gives the school a unique opportunity to raise fund for their extracurricular activities like sporting events, field trips, social clubs and sports equipment with $20 being donated by Buick for every test drive taken! This particular event was put on by the LP Miller Bears Senior Football team who braved a cold rainy day to raise some impressive donations for their school! Stay tuned for the donation total to be announced in the coming weeks.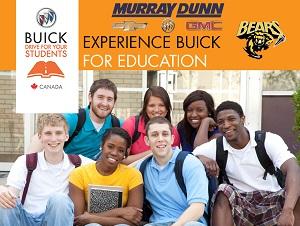 MURRAY DUNN SPONSORING THE SHSRA SUMMER OF 2016, 2017
Murray Dunn GM is proud to support the Saskatchewan High School Rodeo Association as well as our local competitors who compete throughout the summer at events all across the province. Nipawin's own local competitors of Sarah, Lauren and Haley Demmans are among some of the local talent competing at high school rodeo events on a regular basis. Their parents Trevor and Becky Demmans have been customers at Murray Dunn GM for many years and they trust in their Murray Dunn Chevrolet Duramax to get them to and from events all over North America! If you happen to see their trailer rolling down the highway make sure to give them a honk and make sure to check out the action if an event is near you! Check out our featured interview with Sarah, Lauren and Hayley!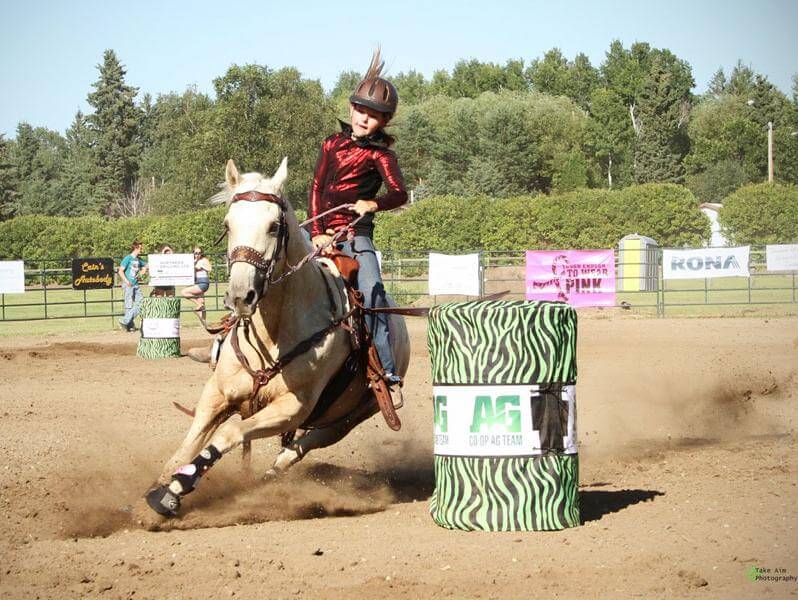 MURRAY DUNN GM GM PLAYER OF THE MONTH WINTER 2017
Murray Dunn GM has joined arms with the Nipawin Hawks Junior Hockey program to create the Murray Dunn GM Player of the Month award. The award is given monthly to recognize players who exemplify a high level of play on the ice & contributing member to the community of Nipawin while off the ice. The players are granted a $200 scholarship fund placed in their name eligible to be used after their years of playing for the Nipawin Hawks. This reward is to help them achieve success beyond their years of playing hockey! Congratulation to goaltender #37 Kristian Stead & forward #13 Josh Bly who were recipients of this award for January and February 2017.
MEN'S MOVEMBER NIGHT NOVEMBER 2016
Movember is a movement for men's health and to stop men from dying too young! The Movember Foundation provides financial assistance and social awareness for Prostate Cancer, Testicular Cancer, Suicide Prevention and Mental Health. Each year the month formerly know as November is experienced by thousands of men across the world to help raise funds and awareness for the Movember Foundation of Canada. Our dealership took this opportunity to host a Men's Movember Night at our dealership which included many things related to our Mo customers! Good food, cool toy and of course a lot of cool truck stuff were on hand for several of our customers as well as general public to enjoy a fun social evening out with fellow Mo's. Door prize draws as well as giveaways were available for attendance to win. Cash donations were also accept at the door and donated directly to the Movember Foundation. Thank you goes out to all those who attended and we hope that you enjoyed the event as much as we did!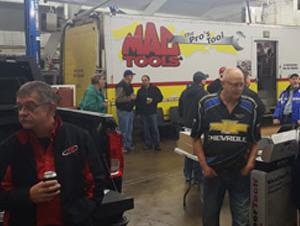 NIPAWIN HAWKS TEDDY BEAR TOSS NOVEMBER 2016
The Lions Club as well as the Nipawin Kinettes organized their annual Teddy Bear Toss and Food Bank drive at a Nipawin Hawks's home game. Murray Dunn GM was honored to play a helping hand in this ever so popular annual event. Our GMC Sierra Denali was on hand to help pick up and haul off the teddy bears so that play could resume. Murray Dunn would like to thank both the Nipawin Lions and the Nipawin Kinettes along with the Nipawin Hawks for the opportunity to be a part of a community focused event like this and we look forward to working with these great community services in the future!
MURRAY DUNN GM SUPPORT SOBER DRIVING AWARENESS DECEMBER 2015
Murray Dunn GM teamed up with Nipawin Chrysler Dodge to support a Sober Driving Awareness campaign during the month of December 2015. Local officers are on the look for drivers demonstrating safe practices behind the wheel throughout the month of December. Officers have rewarded these drivers with coupons to be redeemed at either Murray Dunn GM or Nipawin Chrysler Dodge in exchange for $10 off. Murray Dunn GM along with Nipawin Chrysler Dodge would like to remind the community of Nipawin and the surrounding area to have a safe and enjoyable holiday season!
MURRAY DUNN GM DONATING TO THE SALVATION ARMY FOOD BANK 2015
Every year, Nipawin's Salvation Army food bank puts together a Christmas Hamper operation that gives families in need a hamper. Murray Dunn GM put out a challenge on our Facebook page to help spread the word about this cause. The challenge was to get as many people as possible to engage in our Facebook page by 'Liking' and 'Sharing' our Salvation Army post. For each person that interacted with our page we pledged to donate $1 to the local food bank! After the overwhelming amount of interaction on our Facebook page, Murray Dunn GM was proud to drop off a truck load of non-perishable food items to be used for both the Christmas Hamper operation as well as the daily food bank supply. Pictured is General Manger Lyall Cook dropping off the truck load of food bank items.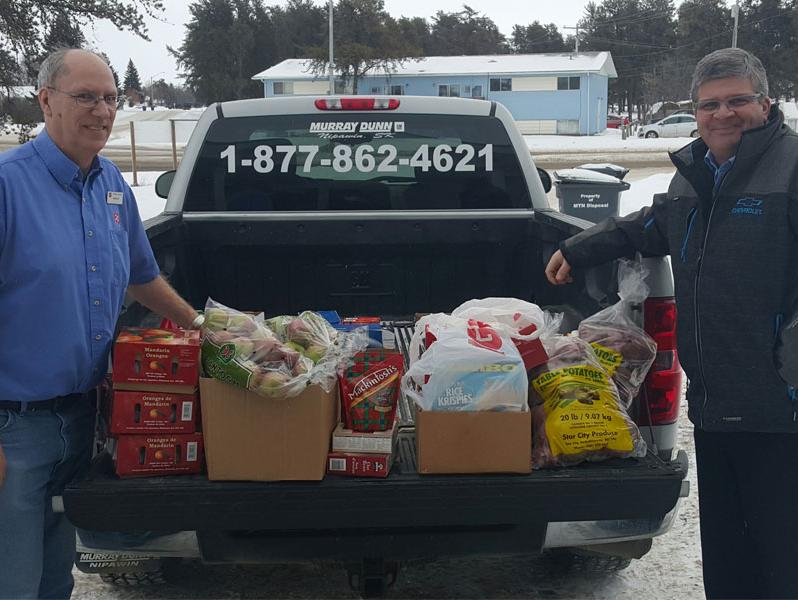 MURRAY DUNN GM DONATES $410 TO BREAST CANCER SOCIETY OCT. 2015
Throughout the entire month of October, 2015 Murray Dunn made a pledge to donate $10 for every test drive to the Breast Cancer Society of Canada in support of October being Breast Cancer Awareness Month. Our challenge was well accepted by many visitors to the dealership who took the opportunity to treat themselves to a new vehicle for a couple of hours. At the end of the month Murray Dunn had tallied 41 test drives which resulted in a substantial donation being made. Murray Dunn GM sent a check to the Breast Cancer Society of Canada in the amount of $410! Thank you to all those who came out for a test drive in support of Breast Cancer Awareness Month.
NIPAWIN EXHIBITION JUNE 2016
The 2016 Nipawin Exhibition was a thriller & Murray Dunn GM was proud to be a part of the action. Tyler Graham & Jennifer his wife were proudly representing Murray Dunn GM out on the race track with a strong showing on all 3 days with closes races competing against a stacked field of 36 wagons.
PASQUIA PARK MIXED GOLF NIGHT 2016
Pasquia Park's mixed golf nights are always a great time and we are glad we get to be a title sponsor for a night. Golfers enjoyed the beautiful 9 hole golf course before indulging in a deliciously prepared meal compliments of Murray Dunn GM. We know everyone who attended enjoyed themselves in this non competitive atmosphere and we hope we get to see more couples next year!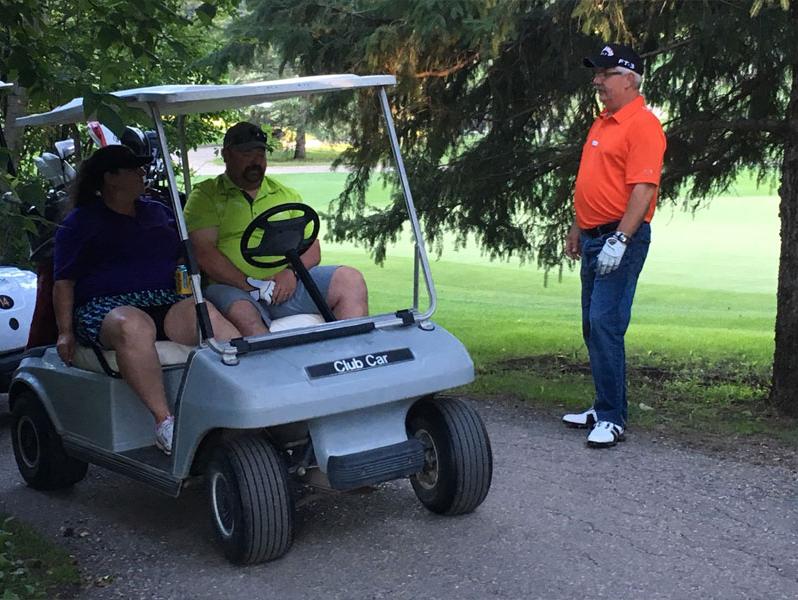 MELFORT EXHIBITION 2016
The 2016 Melfort Exhibition was a great success once again and Murray Dunn GM was glad to be a sponsor for the Motocross event that attracted many spectators over the 3 days of racing action. Over 30 racers competed against one another in a fun filled event for both the riders and the fans watching from the side lines. We would like to congratulate all the riders on a great performance and Murray Dunn looks forward to supporting this event in the future!
LADY CAR CARE NIGHT EVENT OCTOBER 2015
On October 15, 2015 Murray Dunn played host to over 40 women from Nipawin and surrounding area who attended our first ever Ladies Night Car Care Clinic. The Night was a huge success with fun had by all the. The event was in put together in spirit of Breast Cancer Awareness Month and was aimed at educating women on the importance of car maintenance and what to look for on your vehicle. Our goal was that women would gain the knowledge needed to feel more comfortable when visiting a dealership for service appointments. Several of our GM Certified Technicians were on hand to pass on their knowledge of modern day vehicles and the products used in today's industry during service appointments. The fun filled evening also included refreshments and appetizers as well each lady in attendance took home a small gift bag donated by Murray Dunn. A great big thank you to all those who attended the evening and we hope you enjoyed the night!
PANHANDLER ANNUAL GOLF TOURNAMENT 2015
Once again the Annual Panhandler Golf Tournament was a great success and we were proud to do our part in helping raise funds for the Nipawin Regional Health Foundation. Our fun activity located on the tee box of the 8th hole was a big hit raising close to $700 in support of the funds required to purchase medical equipment needed in our area. Thanks to all the golfers that attended this year's tournament and we hope to see you again next year.
JERSEY DAY IN SUPPORT OF THE HUMBOLDT BRONCOS
On Friday April 6th, 2018 the Humboldt Broncos team bus was on route to play against the Nipawin Hawks in game five of the SJHL semi final when they collided with a Semi trailer unit at the intersection of Highways 35 and 335. This fatal collision resulted in numerous fatalities involving players and coaching staff from the Humboldt Broncos hockey team. In this time of grief the province, country and our entire world stands together for one another to show just how close our country is.
Following the tragic event a worldwide movement was announced as "Jersey Day" would go to show the support of all those affected. Thursday April 12, (known as Jersey Day) was a day for our staff to show support by wearing a jersey of any type to show the strength that a team can have to help support one another. #broncostrong #humboldtstrong